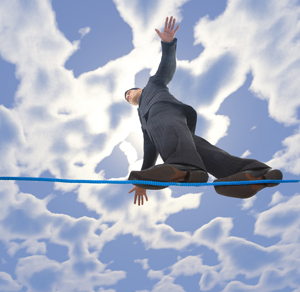 Recently, PepsiCo CEO Indra Nooyi told an audience at the Aspen Ideas Festival, "I don't think women can have it all." While provocative, her statement is not the beginning of a catfight with Sheryl Sandberg and her Lean In movement as some claim. Rather, it's the latest thread in a much-needed conversation about a deeply personal topic – work-life balance.
Agree or disagree, female or male … leaders like Nooyi and Sandberg are giving voice to the fact that expectations about work are changing. While employers are aware of this, it can perplex even a seasoned HR professional who wants to attract and retain top talent.
If you're struggling to create a workplace culture that fosters wellness and balance, here's a few things to consider:
Understand that work-life balance means something different to each one of your employees. Be open to having conversations with individuals to gather unique perspectives.

Pay attention to generational shifts that will continue to change the definition of what balance means for people at different stages in their careers.

Consider EAP and wellness programs

that can improve employee health and well being.

Design incentives that can flex to

fit individual employees, rather than blanket changes or policies. Examples

include:


- A

block of PTO that employees can use to volunteer for a cause, rather than a

one-day
event.
- Reimbursement for fitness or recreation, so that employees can select what they'd like to
do.
- Flexible scheduling options that allow individuals to best accommodate their own working
style and personal obligations.
- Telecommuting allows employees to have better control of their schedules which
can have positive effects on both physical and mental health.


Most importantly, be flexible.

Attitudes on work-life balance will continue to change with
cultural and economic shifts. Leaders who are flexible can update or reinvent their
workplace culture to try something new or change if they find that something is not
working.
While work-life balance might be a misnomer, happy employees make for a successful business, so workplaces should take steps to create policies and initiatives that make it a little easier for employees to balance the demands of life.
What do you think? Is there really no such thing as work-life balance or can we really have it all? Comment below.