Traditional teambuilding activities tend to send employees heading to the hills, but we're confident that there are plenty of ways to establish relationships with your coworkers without an awkward icebreaker activity or out-of-place craft project. Creating those bonds among staff members is about more than just having a cool company culture; employees report that when they have friends at work, their job is more fun, enjoyable, worthwhile, and satisfying. In fact, a recent Gallup survey found that close work friendships boost employee satisfaction by 50% and people with a best friend at work are seven times more likely to engage fully in their tasks.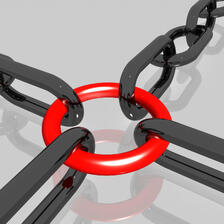 Now that the weather is warmer, we think there are even more ways you can get employees to participate in creative, engaging activites. Here are eight of our favorite suggestions:

1.) A walking/biking club.
Get your employees to get up out of their desks, get outside and enjoy a little light physical activity. Small groups of six are perfect for taking a group stroll; you can even make these extra productive and host a walking meeting. We find that around the 2 or 3 p.m. lull in the workday, almost every one of our coworkers would welcome both the company and the break to take a walk outside. It can be as formal or as informal as you want to be -- you can just send out an email invite when you're feeling like a jog, or have a standing appointment of a certain time and day of the week.
2.) A potluck picnic.
Nothing brings people together quite like a potluck, and the workplace is no exception. Set up tables, chairs and yard games outside and have every one of your employees bring their favorite summer dish to share. Soon enough, your coworkers will be swapping their secret recipes, engaging in a competitive game of horseshoes or just enjoying a conversation with a new member of the team.
3.) An employee field day.
Much like the ones you may have attended growing up, a companywide field day can be a great way to get employees talking, moving and working together. Old-school activities like potato sack races, Red Rover, relay races and tug-of-war can be a clever and inexpensive way to incorporate fitness challenges for your team. Incentivize it by handing out rewards and trophies -- anything from gift cards to a few extra hours of PTO can work to boost participation.
4.) Volunteer outings.
Give back to your community and build up your own team at the same time. Whether your employees are running for charity, building homes for impoverished families, or collecting food for a local shelter, volunteering is an excellent activity that builds sustainable and powerful camaraderie.
5.) Lunch and learns.
Whether it's an outside speaker teaching new skills or an internal employee with a special hobby, hosting regular lunch and learns is an easy way to have employees bond over both food and learning something new. You can learn the basic tips and tricks to hosting the perfect lunch and learn here.
6.) Throw seasonal parties at the office.
Piggyback on all of the fun of a holiday season by inviting employees and their guests to the office for in-house activities. Depending on the demographics of your population, you could host trick-or-treating for your employees' children on Halloween, tailgate parties for big football games, movie screenings on a projector in the parking lot, a company Christmas party and much more. By encouraging employeoes to bring their families, you're encouraging them to truly get to know one another on a more social level.
7.) Take a page out of "Market to Art."
Art restaurant at the Four Seasons Hotel Seattle has a new activity they call Market to Art. Employees take a group of 10 people to the outdoor Pike Place Market, where guests are split into five teams of two. Each team gets $60 and 30 minutes to choose ingredients for one of five courses for the evening's meal. The chefs at the hotel's restaurant then make a dish using the gathered ingredients, and each team presents "its" plate to the group. Find out where your local farmers' market is, hire a few local chefs for the night and imitate this game for a Food Network-worthy competition.
8.) Learn and share your strengths.
Although it may seem a little cliche, there's a very good reason why personality quizzes are so popular. Bring together your employees for a day to take tests like the Gallup Strengths Finder or Myers-Briggs Personality Index. These tools teach team members about themselves, each other and how they best work as a group. Get a little more interactive by having employees guess each other's results!
Which one of these activities would you like to try with your team? Comment below!