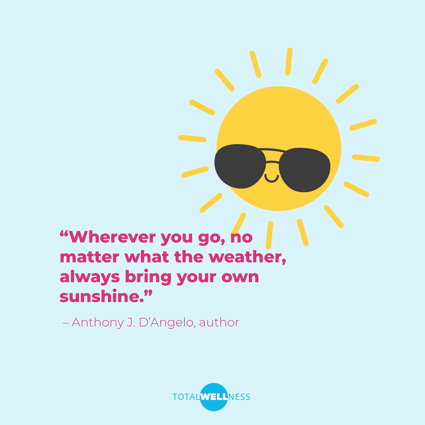 Everyone — including your employees — could use a bit more positivity in their lives right about now.
Since September 13 is Positive Thinking Day, now is an ideal time to spread hopeful messages like positive thinking quotes. Research shows optimism can help individuals through tough times. And, being happy can improve health and wellness.
The perks of optimistic thinking include:
Increased life span
Reduced stress levels
Decreased depression risk
Plus, positive thinking can increase resistance to the common cold. It may also improve psychological well-being while providing a tool to better handle life's hardships. With practice of increased positive self-talk, negative outlooks can turn around.
What are some examples of positive thinking thoughts?
Read on to find a new favorite inspiring quote to change negative outlooks!
Positive Thinking Quotes to Share With Employees
"Our life is what our thoughts make it.
– Marcus Aurelius, philosopher
"I am the greatest, I said that even before I knew I was."
– Muhammad Ali, American pro boxer and philanthropist
"If you hear a voice within you say, 'You cannot paint,' then by all means paint, and that voice will be silenced."
– Vincent Van Gogh, artist
"Attitude is a choice. Happiness is a choice. Optimism is a choice. Kindness is a choice. Giving is a choice. Respect is a choice. Whatever choice you make makes you. Choose wisely."
– Roy T. Bennett, author of The Light in the Heart
"Whatever the mind of man can conceive and believe, it can achieve."
– Napoleon Hill, American self-help author
"You must live in the present, launch yourself on every wave, find your eternity in each moment. Fools stand on their island of opportunities and look toward another land. There is no other land; there is no other life but this."
– Henry David Thoreau, philosopher, author
"Wherever you go, no matter what the weather, always bring your own sunshine."
– Anthony J. D'Angelo, author
"If you put negative thoughts into your mind, you're going to get negative results. It's just as true that if you put positive thoughts in your mind, you will be a recipient of positive results."
– Lou Holtz, former American football player, coach, and analyst
"When you go through a negative situation, don't think about it. Make it positive."
– Yoko Ono, singer and artist
"Promise yourself that you will talk health, happiness, and prosperity as often as possible."
– John Wooden, former basketball player and coach
"Human beings, by changing the inner attitudes of their minds, can change the outer aspects of their lives."
– William James, psychologist, philosopher
"We become what we think about."
– Earl Nightingale, radio speaker, author
"To make a deep physical path, we walk again and again. To make a deep mental path, we must think over and over the kind of thoughts we wish to dominate our lives."
– Henry David Thoreau, philosopher and poet
"The greatest source of happiness is the ability to be grateful at all times."
– Zig Ziglar, American author, motivational speaker, and salesman
"Always turn a negative situation into a positive situation."
– Michael Jordan, former pro basketball player
"If you tell yourself you feel fine, you will."
– Jodi Picoult, American author
"The mind is everything. What you think you become."
— Buddha, philosopher and spiritual leader
"The difference in winning and losing is most often not quitting."
– Walt Disney, American entrepreneur, writer, film producer, and voice actor
"Be positive. Your mind is more powerful than you think. What is down in the well comes up in the bucket. Fill yourself with positive things."
– Tony Dungy, former American football coach and sports analyst
"The moment one gives close attention to anything, even a blade of grass, it becomes a mysterious, awesome, indescribably magnificent world in itself."
– Henry Miller, American writer and artist
"Keep your face always toward the sunshine and shadows will fall behind you."
– Walt Whitman, American poet and essayist
"You, and only you, are ultimately responsible for who you become and how happy you are."
– Rachel Hollis, American author and motivational speaker
"A man sees in the world what he carries in his heart."
– Johann Wolfgang von Goethe, German writer
"Nurture your mind with great thoughts, for you will never go any higher than you think."
– Benjamin Disraeli, British statesman and novelist
"Find a place inside where there's joy, and the joy will burn out the pain."
– Joseph Campbell, American professor
"Things have a way of working themselves out if we just remain positive."
– Lou Holtz, former American football player, coach, and analyst
"It takes sunshine and rain to make a rainbow. There would be no rainbows without sunshine and rain."
– Roy T. Bennett, author of The Light in the Heart
Easy Ideas to Celebrate Positive Thinking Day
Love the idea of spreading positivity among your employees?
Do it daily! Check out our free downloadable Positivity Pack to get started.
Even though Positive Thinking Day falls on a Sunday this year, you can still promote and observe the event. During the week of September 13 — or any time, really — take some time to celebrate the good in life. Laugh, crack jokes, and share in life's joy. One of the best ways to do that is to spread optimism among others.
Here are a few easy ways to do it:
Smile at everyone
Read positive books
Volunteer as a team
Reflect in a gratitude journal
Share only feel-good news stories
Ask team members to share wins
Create a team gratitude Slack channel
Pass out gratitude journals to your staff
Email your staff this list of positive thinking quotes
No matter how you and your team decide to celebrate, do it with enthusiasm and optimism. You could even turn it into a regular monthly event to increase workplace engagement and joy. Happiness and positivity are contagious, after all.
What are some of your favorite positive thinking quotes? Share them in the comments below!