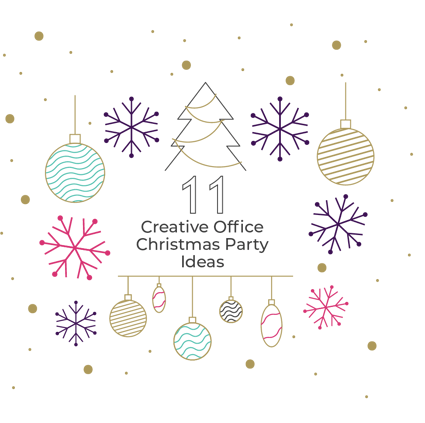 If you're tired of the traditional workplace Christmas party, we hear you.
There are only so many butter cookies and punch parties everyone can take.
This year, if you're looking to throw a creative office Christmas party, it'll take a little planning to skip the traditional potluck gathering.
Not only are unique holiday party alternatives heaps of fun, it's also a great way to show employees how much you appreciate all of their hard work.
Best of all, a holiday party doesn't need to be elaborate, either.
Below we share a list of creative office Christmas party ideas for any budget.
The Ultimate Creative Office Christmas Party Ideas List
There's no better way to give your employees a well-deserved break than hosting a Christmas or holiday party in the workplace.
In the upcoming weeks, offices everywhere will be winding down for the break that comes just before the new year. Now is your time to encourage employees to let loose a bit and get into the holiday spirit.
Instead of buying your employees more stuff they won't use, gifting them a creative holiday experience will be much more appreciated.
Here's a look at 11 ways to celebrate the holiday season with your team:
1. DIY Ugly Christmas Sweater Party
Who can turn down an ugly Christmas sweater party invite? Alongside a catered lunch, setup a crafting station for everyone to decorate their own sweater. You can purchase (and wash!) sweaters from a thrift store or buy plain new ones for employees to embellish. Host a runway show for participants to showcase their ugly creations. Pick a winner and present a gift card or other prize.
BYOS (Bring Your Own Sweater) option. Have employees bring their own sweaters in already decorated to wear for the day. Set up a secret voting area for coworkers to choose their favorite sweater. Present the winner with a prize or trophy for their efforts during a luncheon.
2. Setup a Whodunnit? Murder Mystery
There's nothing like a team activity that involves solving fake crimes. Host a "Murder Mystery" party with either teams or individuals, depending on the size of your office. You can make it as complex or simple as you wish. If your team would go for it, consider having everyone wear costumes. If you don't have the time or energy to plan the intricacies of a "murder" at work, consider hiring an outside company to host.
DIY Murder Mystery option. Find inexpensive printable packages online that lay out step-by-step how to setup an office murder mystery party. Consider offering prizes for the team or individual responsible for solving the mystery.
3. Volunteer Together
Bond together during this special time of year by giving back. Choose a local charity and offer the option to volunteer together for a half-day. If you have a large company, let departments or teams decide what to do together. Don't forget to take photos, videos, etc. and share experiences at an office event or through newsletters, social media, etc.
Organizations that always need volunteers:
Soup kitchens

Animal rescues

VA hospitals

Toys for Tots

Retirement homes

Habitat for Humanity

Salvation Army bell ringing
Set up Santa's workshop. If you have been collecting toys or are planning a big toy purchase for charity, ask employees to help with wrapping, tagging, and crafting cards to go with each one. The recipients will appreciate the special touches.
4. Schedule a Painting or Craft Party
Even if your employees don't typically do "creative" work, this can be a great new outlet for creative expression. Consider booking a holiday-themed painting party at a local art studio — some even let you bring your own wine! If it's in the budget, consider hosting an artist on-site to teach a class. Take advantage of the unique options your area has available.
Get crafty. Hop on Pinterest and pick out a few crafts that are easy to assemble. Buy the necessary craft supplies and place crafting stations throughout the workplace during your holiday gathering. If it's after-hours and kids are invited, set up ready-to-paint ornaments.
5. Try to Escape an Escape Room
Book an escape room experience for your team. These are fun team-building exercises that challenge the brain in a new way. Since this activity usually only lasts an hour, consider scheduling a group breakfast or lunch and/or give employees the rest of the day off to relax.
Want to create your own challenge? Set up your own escape rooms with a series of challenges or puzzles for employees to try. Those gag gift type puzzles that seem impossible to solve are perfect. Give away all the puzzles to the winning team members.
6. Head to a Trampoline Park
Have an active group that loves exercise? Schedule a "physical fitness party" at your local trampoline park to burn off energy. Trampoline parks have more than just trampolines, too. Other challenges may include ropes courses, basketball courts, battle stations, and more.
Make cooldown rewarding. Afterward, host a casual employee lunch at a relaxed venue that doesn't mind some sweaty patrons! A smoothie and juice bar is an excellent healthy option.
7. Explore Local Attractions
Pick a well-reviewed local attraction to host your team for a fun evening out. Think out-of-the-box from your traditional restaurant holiday gathering. See if the following locations host group events:
Museums

Aquariums

Art galleries

Monuments

Dinner train

Dinner cruise

Historical sites
Want to add a little something extra? Some attractions will offer private tours, food spreads, and after-hour events, depending on your party size and company budget.
8. Spend the Day at a Theme Park
Bring your team out for a thrilling day of adventure at your local theme park. Even if you don't have a ton of adrenaline junkies, most theme parks have shows, shopping, and other experiences for non-riders to enjoy. Don't forget to schedule a time for the team to get together for a meal and say thank you to them for their hard work.
Want to avoid the crowds? Check out special behind-the-scenes opportunities like a V.I.P. park tour. Everyone loves a sneak peek!
9. Provide a Shopping Spree + Lunch
Give everyone a certain amount of cash and go to a shopping mall. Financial guru Dave Ramsey does this often for his employees at Christmas. While you don't need to shut down the entire mall like he does, you can still spoil your employees with a surprise shopping spree.
Want to hear what everyone found on their shopping sprees? Treat the team to lunch at the food court or another favorite local restaurant after the shopping spree.
10. Book a Circus Troupe
If you have the budget, book a local circus troupe to be the entertainment for the day. Depending on the space required, this event can be on-site or at a local venue. If your company does family Christmas party events, this is the perfect idea for the whole family to attend.
Looking for something a little more low-key? Consider hiring a magician or juggling act to stop into your office Christmas party.
11. Host a Company Cooking Class
Eat, drink, and be merry! Host a corporate culinary class on-site or in a local kitchen. Vendors may work with local hotels, conference centers, etc. to accommodate larger groups. If you live near a celebrity chef restaurant, ask if they'll host a corporate event and surprise your employees!
Want to keep it healthy? If you've been working on a healthy eating wellness initiative, choose a healthy food prep option or a farm-to-table restaurant for the event.
Spin Your Own Creative Office Christmas Party Ideas
The best part of hosting a Christmas party is you can get as creative as you want. The idea is to make your employees smile and unwind as the year wraps up.
In the season of giving, sometimes the best gift you can give employees is permission to relax.
If you're still planning your party, here are a few tips:
Survey employees to find out what they want.

Offer the above suggestions and solicit ideas.

Consider designating a small planning team.

Have fun with it!
Even if your company doesn't have the budget for the above options, you can still make your employees feel special this time of year. A handwritten thank you with a gift card or future-use PTO day goes a long way when it comes to expressing gratitude during the holidays.
What are the best company Christmas party ideas on a budget you've experienced? Share in the comments below!