Research shows that a strong communications strategy is key to a successful worksite flu vaccination program. Promoting the flu vaccine at every opportunity and explaining the benefits of vaccination can also help you increase participation. Yet each year, human resource professionals struggle to come up with creative flu shot communication and marketing materials.
So we've rounded up some samples to get the creative juices flowing and give you some inspiration for your own worksite flu vaccination program. Enjoy!
1. Flu Man | Sanford Health
This award-winning campaign takes a humorous approach to help motivate 21,000 employees to get their flu vaccinations.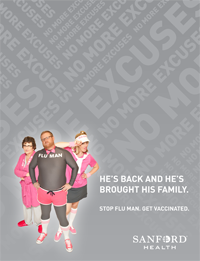 2. Flu Fighter | NHS Employers
This campaign used a variety of channels including videos, lanyards, and social media to help spread their message.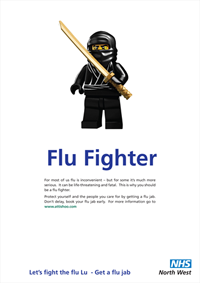 3. Flu-Free USF | University of San Francisco
Bold graphics bring awareness on how to stay health during flu season.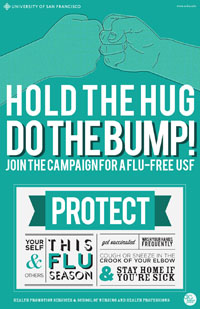 4. The "Fifth Guy" | Florida Department of Health
Although this is not specifically for flu shots, this public health awareness campaign illustrates a simple point - respect hygienic norms to prevent the spread of germs - with some humor.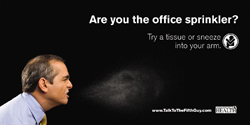 5. Don't be the Bait | UPMC System
This simple, yet compelling, image gets your attention. No one wants to be bait.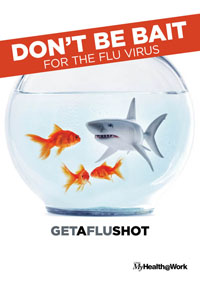 6. Corporate Flu Shot Program | Momentum Worldwide
This series of posters encouraged employees to get their annual flu shot and showed the flu viruses talking among each other.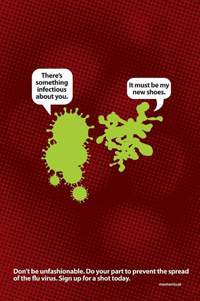 7. Best Defense | Saad Hpsital
This poster was geared towards health care providers and shows them in a flu shot protection bubble.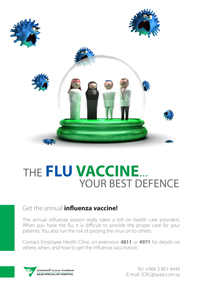 8. Earn Your Stripe | Pennsylvania Department of Health
This poster uses a idiom to promte flu shots.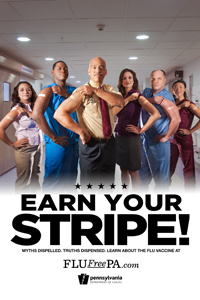 9. Movie Poster | Arlington County Public Health
Flu prevention advertising campaign features a movie theme.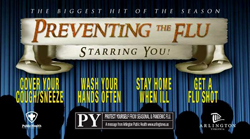 10. Baby Be Wise - Immunize | UPenn
The staff at the Hospital of the University of Pennsylvania had some fun with this music video featuring employees lip-syncing to a doo-wop beat.

What creative flu shot campaigns have you seen? Tell us about it in the comments.