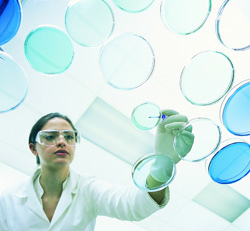 This year company flu shot programs will have access to an eggless flu vaccine. The new cell culture technology vaccine (Flucelvax, made by Novartis) was approved by the FDA in November 2012 for adults aged 18 and older.
Advantages
It is manufactured using cell-culture technology, which utilizes mammalian cells rather than chicken eggs to grow virus strains. This type of manufacturing makes it easier and faster to produce vaccines for seasonal influenza or in the case of a potential pandemic.

The traditional influenza vaccine production takes lots of time and can lead to vaccine shortages. Through cell-culture technology, a large supply of vaccine can be produced within weeks.

The vaccine is produced in a closed, sterile, controlled environment, which significantly reduces the risk of potential impurities.

Unlike other influenza vaccines, it does not contain any preservatives, such as thimerosal, or antibiotics.
Cell-based technology is new to flu vaccine production, but this technology has already been used to produce other vaccines such as those for polio, rubella, and hepatitis A, as well as vaccines distributed during the H1N1 pandemic. This influenza vaccine has also been used in Europe for a several years.
While it won't replace the traditional flu shot anytime soon, for some people that have severe food allergies to eggs this is a great alternative. And, as a national onsite flu shot vendor, TotalWellness has access to this next generation of flu shots.