Employee health screenings are one of the most important aspects of a successful workplace wellness program. Why? Because without annual screenings, an employer can't accurately gauge the health and wellness needs of their workforce. Not to mention, employees are likely to be in the dark about any potential risks to their health.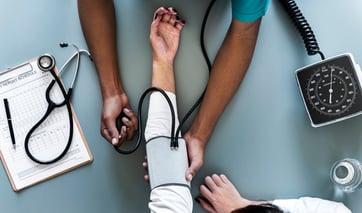 Biometric screenings are an effective preventative service for your employees. The results obtained from these screenings give employees a snapshot of their current health status. Screening events help employees learn if they are at risk for high blood pressure, obesity, heart disease, and other chronic illnesses. The results show employees where they might need to make some changes in their daily habits to improve their overall health.
Planning an employee biometric screening is a great step in the right direction in providing preventative healthcare assistance for your employees. However, we know that planning these types of events – especially if it's your first time – can be a bit challenging. As you begin to plan your event, you'll probably have some questions.
So, we gathered some of the most common questions regarding biometric screenings that we receive from our clients and answered them below. We hope these answers help you feel more comfortable planning your next screening event!
Q: What exactly is a biometric screening, and what does it consist of?
In the simplest terms, a biometric screening is a quick health exam. Employers use these screenings to offer employees some insight into their current health status. These screenings take place at your own office, so employees don't have to take much time out of their busy workday to complete the screening.
During the screening, employees will provide a blood sample through either a quick fingerstick or a venipuncture blood draw (this choice is up to the employer). Biometric screenings usually measure the following health factors:
Height/Weight/Body Mass Index (BMI)
Blood pressure
Waist circumference
Glucose (amount of sugar in blood)
Total cholesterol
LDL and HDL cholesterol
Triglycerides (the amount of fatty acids in the blood)
Q: How accurate are the results from the biometric screening event?
Fingerstick methods have been proven to be as accurate as commercial laboratory methods. Most vendors use either the Cholestech LDX® System or CardioChek Plus for fingerstick testing. These instruments are used across the United States by hundreds of hospitals and in thousands of doctors' offices. For venipuncture, the blood samples are processed by an accredited lab.
Q: How do you ensure confidentiality at the screening?
Privacy is extremely important when it comes to your biometric screening event. When choosing a screening vendor, be sure that your potential provider takes the issue of privacy seriously. Here at TotalWellness, our screening staff adheres to strict policies regarding data privacy. During the event, our staff is trained to communicate results to a participant in a confidential and private manner. For example, our nurses will point to values on a participant's screening sheet, rather than saying the results aloud in front of an employee's peers.
Q: How long does the screening take?
Depending on the test options selected by the employer, each screening will take approximately 15-20 minutes per participant.
Q: How many screenings can be completed in an hour?
TotalWellness recommends no more than 40 people be screened each hour. However, the screening flow is determined by expected number of participants, the length of the event, and room size.
Q: How big does the room need to be for the screening?
The room size depends on a few factors:
The number of participants
The test options selected
The length of the screening
We can give you a more accurate answer when we know these details. In most cases, room size shouldn't be an issue.
Q: Do you have remote options for employees that can't attend the onsite event?
This depends on your screening vendor. TotalWellness offers a variety of options for remote employees. These options include a lab collection network with over 1,300 sites, home kits, and an option to upload data from a primary care physician office visit.
Q: Do participants need to fast before the screening event?
Fasting is optional for participants. However, fasting does give more accurate results. TotalWellness provides both fasting and non-fasting options. For more info on the pros and cons of fasting, check out this article.
Q: Do you take appointments, or do you accept walk-ins?
This is up to you! When it comes to TotalWellness' screening events, employers can choose how they want to structure the event. But appointments help avoid everyone showing up at the same time.
Q: Is there a minimum number of participants needed?
Again, this depends on the vendor, but there is typically a minimum order. TotalWellness requires a minimum of 40 participants. However, we are happy to accommodate smaller events (20-39 participants) with an added small site fee.
Q: Do you provide marketing materials for screening events?
This is another important question to ask when selecting your screening provider. TotalWellness provides marketing and communication materials to help you promote your event to your workforce. This is all included in our all-inclusive pricing package.
Q: What is the lead-time needed for a biometric screening event?
At TotalWellness, we require a 6-8 week lead-time. This helps us ensure you have the best staff and overall experience as possible.
We hope we've covered a majority of your questions! If you have any more questions regarding a biometric screening event, feel free to reach out to one of our account representatives.
Have you started planning your annual employee biometric screening yet? Leave a comment below!
Like this blog post? Share it with your employees or co-workers with this printable version of the blog!
Image created by Rawpixel.com - Freepik.com