We all know that New Year's resolutions don't always lead to success. In fact, most of them fail – with only eight percent of people following through with their resolutions. And while we believe that developing a New Year's resolution dedicated to improving your health is a fantastic idea, it might not be the best approach.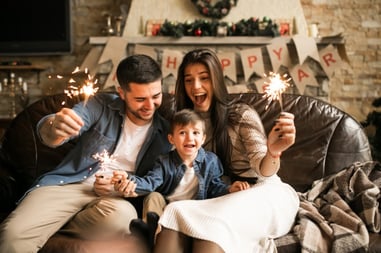 Rather than having one specific New Year's resolution this year, try adopting some healthy habits that are more likely to stick with you over a long period of time. Focusing on forming healthy habits is a bit more realistic and easier than having a resolution of losing 20 pounds, for example. You'll be more likely to see results and improve your wellbeing by developing habits that will keep you healthy and happy year after year.
So, if you want 2018 to be your healthiest and happiest year yet, consider adopting some of these seven healthy habits for a happier "new you":
Focus on your mental health.
When it comes to health, many of us focus on our body and not enough on our mind. But your mental health is just as important as your physical health! With 1 in 5 American adults experiencing a mental illness in a given year, it's crucial that you learn to prioritize your mental wellbeing. Focus on your mental health this upcoming year by taking a break from social media, spending more time outdoors, and speaking with a mental health professional when you feel overly stressed, anxious, or depressed. And don't be afraid to take a mental health day when you need one!
Eat less sugar.
Eating sugar is a vicious cycle! In fact, many of us are sugar addicts. Researchers found that sugar stimulates brain pathways the same way as an opioid would. Even scarier, sugar is just as unhealthy as it is addictive. Too much added sugar in your diet can lead to major health issues like obesity, high blood pressure, a weak immune system, and liver damage – just to name a few! Fight your sweet tooth this New Year by focusing on whole, unprocessed foods and limiting your trips to the candy bowl. Check out some of these delicious low-sugar meals for inspiration.
Participate in your company's wellness program.
One of the simplest things you can do to improve your wellbeing is participating in your company's employee wellness program. Take advantage of any and all offerings including screenings, flu shots, and employee wellness days. After all, these offerings are free, so why not take advantage? Be sure to also participate in any wellness challenges and health education opportunities. You'll learn some great tips that will help lead a healthier and happier life.
Eat more fruits and veggies.
According to the Harvard School of Public Health, the average American consumes a total of only three servings of fruits and vegetables daily. This is really a shame because eating more fruits and veggies is one of the simplest and most delicious ways to lose weight, prevent certain diseases, and get more essential nutrients. Make it a habit to eat at least five servings of fruits and veggies every day in 2018.
Make time for self-care.
Daily life can be a bit chaotic. With the amount of stress that adults face on a daily basis, practicing self-care is essential to a clear mind and overall wellbeing. Make it a habit this New Year to practice some self-care for at least 15 minutes every day. Self-care can include meditating, reading, journaling, taking a bath, getting a massage, or working on one of your favorite hobbies.
Practice gratitude.
While it seems like the "season" of gratitude is coming to an end, gratitude should be practiced year-round. Research has shown that gratitude has a positive impact on health and wellbeing, including better sleep habits, lower blood pressure, more energy, and less stress. Make it a habit to express gratitude at least once a day. To help the habit stick, consider starting a gratitude journal to track your thoughts.
Treat your gut right.
Many of us seriously neglect our gut health. A healthy gut is extremely important to your overall health and wellbeing – as it affects your entire body, including your brain! Make it a habit to pay more attention to your gut health this year. You can treat your gut right by lowering your stress levels, eating gut-supporting foods, and consuming more probiotics.
Remember that developing healthy habits takes some time and patience. Consider adopting one healthy habit at a time so that you don't stress yourself out. From all of us at TotalWellness, we wish you a healthy and happy New Year!
What healthy habits will you focus on in 2018? Share in the comment section below!
Like this blog post? Share it with your employees or co-workers with this printable version of the blog!
Image created by Senivpetro - Freepik.com