With the weather heating up and the Fourth of July just around the corner, we can officially say that the season of company picnics has arrived. While it can be tempting to make things simple and suggest an all-out potluck, we don't think your wellness program would be best-served by a spread of mayonnaise-laden salads, fried chicken and high-calorie desserts. Host a healthy company picnic (without sacrificing flavor or tradition!) by following these tips: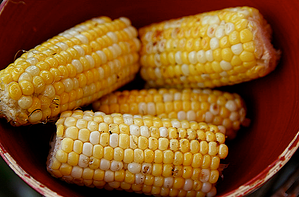 The Barbecue
If you're able to offer up a grill or seven, there is an almost endless variety of healthy food options at your disposal. Grilled chicken or fish, kabobs, foil packets filled with veggies and shrimp skewers are all preferable over the traditional hot dog or burger route!
The Healthy Potluck
If you aren't offering catering or cooking at your picnic, there is nothing better than the convenience of a potluck. Send out an email or post a list of healthy 'replacements' for typical family-style picnic food for employees to read before they sign up to bring a dish. Here are a few of our favorite tips and suggestions:
- Sub fried chicken for oven-fried chicken
- Bring salmon burgers instead of beef
- Use a potato salad recipe that calls for mustard instead of mayo
- Bring veggie or fruit skewers
- Sub pita chips and hummus for chips and onion dip
- If you're going with cold cuts, opt for turkey instead of ham
- Pre-portion desserts in small slices
- Skip the drink mixes; offer a healthy lemonade, unsweetened tea or just water instead
The Field Day
Pair up your picnic with family-friendly physical activities. Kickball, volleyball, potato sack races, horseshoes, water balloon tosses, wheelbarrow races and musical chairs are all great ways to encourage movement and healthy competition among your employees. We love the "field day" template as a way to show your employees that you value work/life balance and want to get to know them on a more personal level. Plus, it keeps everybody active!
The Fundraiser

Using your company picnic to help out your local community is an excellent way to get your staff engaged and encourage the social health of your workplace. Use a combination of games and silent auctions to raise money for a good cause in your neighborhood, whether it's for a charity or a nearby town that was damaged by a storm.
The Cooking Competition
In the fall, there's nothing better than a good ol' fashioned chili competition. Stir up a little employee rivalry by hosting an employee picnic that spotlights your staff's cooking skills. Then, have the rest of your employees taste test and vote on their favorites! You can even put a 'healthy' spin on it by opting for competitions like the best salad, shrimp dish, grilled chicken, vegetarian meal and more.

What kind of employee picnic would you be interested in? Comment below!