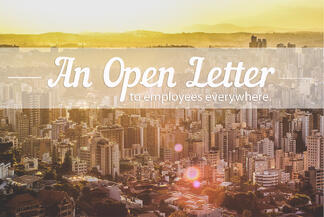 Dear Employees Everywhere,
Hi. We're TotalWellness. And we want you to know that you are just fine.
A lot of the talk about health these days—especially in the workplace—has become scary and overwhelming. You're constantly bombarded with messages telling you that:
You are unhealthy
You need to change your entire lifestyle
If you don't change bad things will happen
You are just another scary statistic
You have to meet certain standards
These messages come from mass media, the news, science, medicine, friends, family and even your employers. It can be hard to escape them, which can make it hard to feel good about the way you live your life.
The funny thing is: health is all about the way you feel! We've come a long way in science, medicine and technology to a point where health isn't simply the absence of disease. Health isn't even just about how your body physically functions.
Health these days includes how you feel physically, mentally, spiritually, emotionally and even socially. Your health is about you as a whole. So, if you're body functions well physically, but the constant negativity makes your mind an unhealthy place, are the negative health messages even working?
We think not.
And we're out to change the way the world views health and wellness. So, employees everywhere, we're starting with you:
You are healthy.
Yes, you, in the cubicle on the 15th floor. And you, working the register at the department store. And you, unloading trucks in the shipping bay. And all you employees, everywhere.
We believe that every one of you has at least one thing that makes you healthy. Whether it's eating blueberries for breakfast, walking the dog over your lunch break, chasing your kids around the yard or getting a full night's sleep, you have healthy habits in your life.
The first step to maximizing your health is finding your healthy. Look at your own life and your daily routine. What kinds of things do you do that help you to feel good physically? Mentally? Spiritually? Take note of these awesome habits because that's how you can create more.
When you recognize the healthy habits that seem like second nature in your life, it's so much easier to incorporate even more healthy choices and eventually weed out the not-so-healthy ones. This is how the best—and most sustainable—health journeys start.
So, instead of listening to the constant negativity telling you that you just aren't good enough, listen to us:
You are healthy
You have healthy habits
You can use those to create more healthy habits
Being healthy is about how YOU feel
You are worth feeling good
Health doesn't have to be about meeting a standard of physical fitness. Health can be relative to you. Find what works for you. Love to cook? Try new recipes. Like the outdoors? Go for a hike. Animal lover? Take your pup for a walk. Whatever your healthy is, go find it!
And let us be the first to say, you are just fine. You don't need to feel intimidated or overwhelmed by the negative health messages the world throws your way.
Take your healthy self and have a great day. You deserve it.
-TotalWellness
P.S. How do you do healthy? If you feel like sharing, we'd love to hear your stories and provide any support you need. Don't hesitate to post photos or selfies, goals, stories, quotes, or anything that makes you healthy with #iamhealthy on social media. We'll find your messages (on Twitter, Instagram or Facebook) and share them with our followers. Check out our social pages to see your posts, words of motivation and other great wellness tips!